在沿海一带居住的人,每一顿饭,都应该少不了把海鲜当菜肴
小时候,一点也不明白每天有妈妈煮饭、每天可以在家里开饭是件很幸福的事
总是很羡慕其他小孩们,可以和一家人在外用餐
自己出外生活后才开始明白还是住家菜比较好吃
很怀念妈妈的这一道宫保苏东
嫩嫩的章鱼片,味道有点香辣
加上蚝油和苏东(章鱼)的鲜味,好吃的不得了
说到章鱼,又想起了那天在热浪岛的钓章鱼比赛
我和小华没出海,但后来很庆幸的看到了好多刚从海里捞上岸的活生生章鱼
从来没想过在巴刹里貌不起眼的黑黑章鱼,在活生生时竟然是那么的漂亮!
刚抓回来的章鱼,它身体表面的一层皮是会不断的闪闪烁烁换颜色
我想那是一种自我保护的自然现象吧!
章鱼皮上的每一颗细胞
一点点地从白色扩大成紫色
然后再从紫色扩小变成白色。
好像一颗颗的小血点在血管里一直伸张收缩
当时突然觉得生物是那么的神奇,美妙!
章鱼可是含有高量胆固醇的一种海鲜食物
尤其是章鱼头那一部分
所以要煮章鱼就得要好好的处理它
之前在马六甲比较常煮这一道菜
但来了英国之后,由于海鲜很贵
同常我们都是买进口的冷冻章鱼
当然,煮起来味道远远不及新鲜的章鱼味道好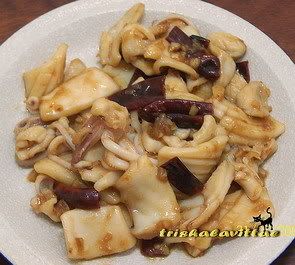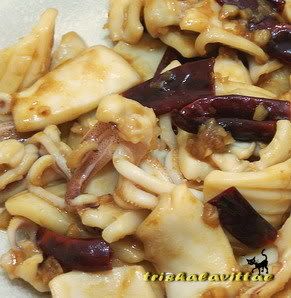 食材:
苏东肉片... 1 碗
蒜米......... 1 汤匙
大葱......... 1 粒(切片)
辣椒干......1/4碗(切段)
糖............ 1/2汤匙
蚝油........ 1 汤匙
胡椒粉..... 适量
食油........ 适量
做法:
1. 用胡椒粉、蚝油和汤腌苏东肉片。至少得腌上半个小时。
2. 先在热锅里炒香辣椒干,再炒蒜米。
3. 蒜米一旦变黄金色后,就可以开始加入大葱一起炒。
4. 当大葱开始遇热变软后,把苏东肉片倒入锅里炒。尽量快翻苏东肉。
5. 苏东煮熟后即可。
蒂莎的贴心小建议:
所有海鲜不可煮太久,煮太久肉质会变硬。只要苏东肉遇热后稍微卷起即可。
——————————————————————————————
Ingredients:
1

big rice bowl of squid, cut into bite-size pieces
1 tablespoon of garlic, finely chopped
1 large onion, cut into bite-size pieces
1/4 bowl of dried chili, cut into bite-size pieces
1/2 teaspoon of sugar
1 tablespoon of oyster saurce
pepper
cooking oil
Directions:
1. Marinate squid with pepper, oyster saurce and sugar for roughly half an hour.
2. Stir dried chili then follows by garlic.
3. When garlic turns abit yellowish, put onion into the wok.
4. Put squids into the wok when onion just beginning to soften.
5. Remove everything from wok once squid is cooked.
Trisha's suggestion:
Squid is a kind of seafood. Normally the texture will become hard when it is over cooked. Make sure you don't cook squid for too long.