在热带国家生活,有时候炎热的天气真的很让人受不了
最讨厌得出办公室吃午餐
恨不得每天可以有同事帮忙打包
在外吃午餐总是吃得汗流浃背,弄得满身粘粘的
说真的无论肚子有多饿,都会失去食瘾
热天气吃饭,最能让人家吃得下的最不过是酸酸甜甜的菜肴了
柠檬鸡就是一道这样的菜肴!
柠檬鸡未淋上柠檬酱汁前一定要炸过才行
说到炸,很多人都发现到一个大问题
就是一旦把炸好的东西放入汤汁中后,炸过的食物就不会再脆脆、爽口了
为了避免这问题,用木薯粉是最好不过的了
不信?试试看!
还有一个小秘诀。。。
通常大家都会用玉粟蜀粉弄勾芡
但只要用汤匙去搅汤汁两,三下,汤汁很快就会变水水的
用风车粉代玉粟蜀粉吧!
你会发现到效果很不同呢
什么是风车粉?
哈!其实很多人又问过我这个问题
风车粉是我叫的名称啦!
风车粉是一种淀粉,里面的成分有玉蜀黍、马铃薯和小麦等
那么多牌子的淀粉,我个人认为风车粉是我用过最好的
最近胃口不好吗?
为何不试一试柠檬鸡呢?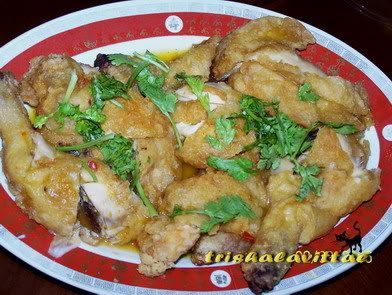 食材:
全鸡腿.......... 4 只
柠檬.............. 1 粒 (扎成柠檬汁)
木薯粉.......... 适量
风车粉.......... 适量
盐.................. 适量
糖.................. 适量
胡椒粉.......... 适量
食油.............. 大量
食水.............. 少量
做法:
1. 用盐和胡椒粉腌鸡腿。
2. 热油后,鸡腿沾满木薯粉,然后炸鸡腿。
3. 鸡腿炸熟后,外皮炸至金黄色后就可以取出,待用。
4. 鸡腿稍冷冷却后,把鸡腿砍成小块。(通常一个鸡腿可以砍成3-4块)。
5. 再热锅,煮热柠檬汁,另加上糖和少许的水。
6. 风车粉加水调,然后加入(5)。
7. 煮好柠檬汁后,把柠檬汁倒在鸡腿上即可。
——————————————————————————————
Ingredients:
4 whole chicken tights
1 lemon (press to get juice)
tapioca flour
corn flour
salt
sugar
pepper
cooking oil
water
Directions:
1. Marinate chiken tights with salt and pepper.
2. Cover chicken tights with tapioca flour and deep fried them.
3. Once chiken tights turn to be gold in color, immediately leave them from the wok.
4. Cut them into smaller pieces (cut the whole tight to 3~4 pieces).
5. Heat the wok again, put in lemon juice with some water. Add in sugar.
6. Mix corn flour with some water and add in (5).
7. Once the lemon sauce is done, pour it on the cooked chicken tights.