到了西班牙,如果没把握这个机会去观赏一场flamenco舞的话,西班牙旅程就像拼图少了一块角一样。
虽然flamenco舞已经被世界公认是西班牙独一无二的舞蹈,至于flamenco的来历,有一些人认为它本身就是来西班牙传统,有一些人认为它是来至于gypsy或Arab国家,也有另一派认为是印度舞的化身。
还没来西班牙之前,我已经非常期盼能够亲身目睹flamenco的舞姿。本来上网查flamenco资料的时候是找到了几间有表演flamenco的舞厅,对flamenco的期盼,我不介意入门票贵一些,但我希望我们能看到值票价的表演。因为小华conference最后一天的时候organizer有带他们到一家舞厅边吃晚餐边看flamenco表演,小华目睹过了,非常建议我到这一家观摩。
Palacio del Flamenco - 就是我们参观Flamenco的舞厅。基本上这里有很多种配套供给顾客选择。以下就是不同的配套与价钱:
A: Flamenco + 一杯sangria或汽水 = 35欧元
B: Flamenco + Paella + 甜品 + sangria = 48欧元
C: Flamenco + 特别套餐(Menu Gaudi) + 1瓶葡萄酒 = 68欧元
D: Flamenco + 特别套餐(Palacio a la cart) + 1瓶葡萄酒 = 80欧元
还有一些VIP配套。可以点击这里检查票价 http://www.palaciodelflamenco.com/fo/bookingengine.4.view.php
全部的配套都是在8:45分开始进场,而配套 A 则是在7:15分进场。
小华之前试过了这里的套餐,他认为这里的食物还可以。加上我们之前又在La Buquera吃了丰富的海鲜餐,吃到饱饱的,所以我们买了2张配套 A 配套。很庆幸的我们住的Ivis Hotel 是可得优惠的旅馆,本来的35欧元一人,优惠后只需付28欧元一人。
时间一到,进入舞厅的时候可以选择的位子并不多了。前面的3个长桌子已经坐满了来这里吃饭的人,我们只好坐比较后面一点了。坐下来不久后就有waiter来问我们要喝sangria还是汽水,然后在flamenco开始之前就把饮料served 上来了。
说到sangria,我想应该好好推荐一下了。Sangria是西班牙与葡萄牙的一种特调酒。我不是很清楚里面加了什么样的酒,但它的味道有轻微的brandy味、水果味、一点葡萄酒味、甜甜的,加上一些冰块更美味!
Flamenco开始前,司仪为我们介绍flamenco的由来及劝告观众如果想拍照的话可以,但不可以打灯,也不可以到处乱走,影响其他的观众。Flamenco开始之前,司仪还邀请了两位观众上台叫他们跳flemenco舞。
Flamenco一开始,我的心就跟着live的音乐在舞动。舞者的每一个脚步锉锉有力,加上舞台的地板是特制的木,每当舞者把脚步狠狠地敲在地板上时,那个很震撼的声音为舞姿增添了一份动力、动感、能量!
其中我发现了跳flamenco的舞者不但身材棒,而且他们的身体线条也非常的好。这些舞者的舞姿轻重阴柔并重。我对这一场flamenco只有大赞,绝对没有什么可以挑剔的了。虽然票价是贵了少许,但我还是认为是非常值得一看的。如果有机会,我还想再去观赏一次!
Visiting Spain without watching flamenco show is like missing a jigsaw puzzle, your trip will never be completed without it!
Flamenco combines the traditional dance and traditional music of Spain. Although the origin of this dance is remained unknown, some believe flamenco is originated from gypsy, some said from Arab countries and some even believe it adopted Indian cultural dance.
Before I flew to Barcelona, hubby attended a conference and the organizer arranged a dinner + show for all the participants. Hubby said I shouldn't miss this fantastic performance and he brought me to the same theather (Palacio del Flamenco) again to see the dance.
Various of entance fees are available. The fees are charged differently depends on the kind of package you bought (for more information about entrance fees, please refer to the following website: http://www.palaciodelflamenco.com/fo/bookingengine.4.view.php). We were quite lucky to get some discount due to the hotel we booked in. In the end we paid 28 euro instead of 35 euro per person.
Flamenco dance is a facinating, full of emotion and enthusiasm kind of dance. The dancer always show his/her emotional expression through movement. Sharp movements and
facial
expressions play a greater role in flamenco dancing than in many other style of dance, reflecting this desire to convey the deepest feelings one is experiencing. This passionate display is always tempered by sustaining the highest levels of grace and precision in movements. Everytime the dancer finishes his/her steps, the crowd will shout 'OLE' together with the dancer! I was attracted by the fantastic performance! I really enjoy watching it! It was AWESOME!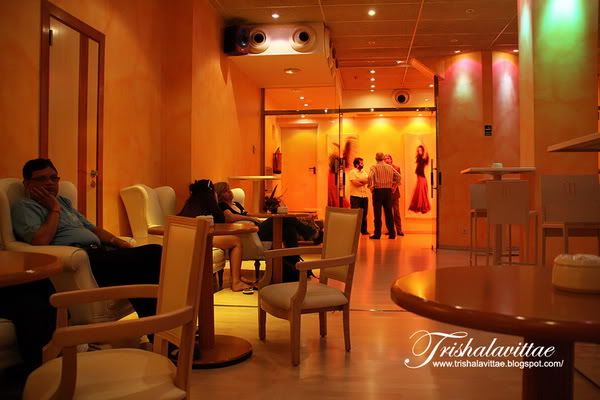 Flamenco 开始之前,顾客可以在这个特别设计的等待室等待、聊天、或先来一杯酒!
Guest could order and enjoy beverages in this nicely designed waiting room before the show starts!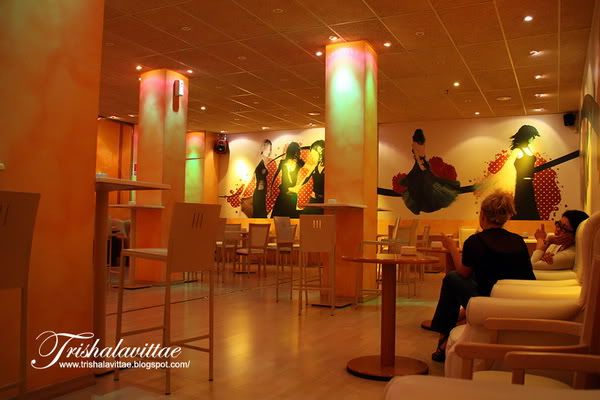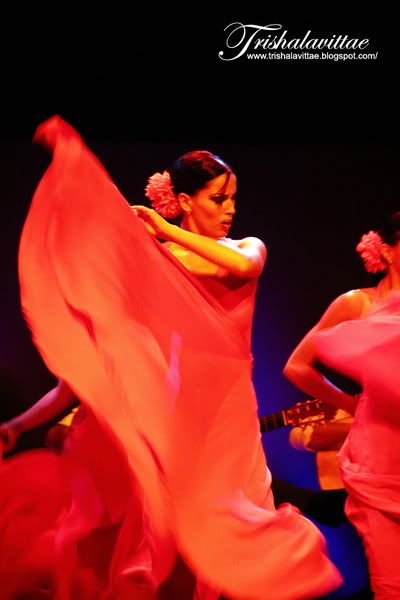 舞厅里的灯光很暗,加上镜头的光圈由不大,而且还是从很远的地

方用telelense拍

的,所以照片拍起来有点吃力。
天鹅

湖flamenco
The Swan Lake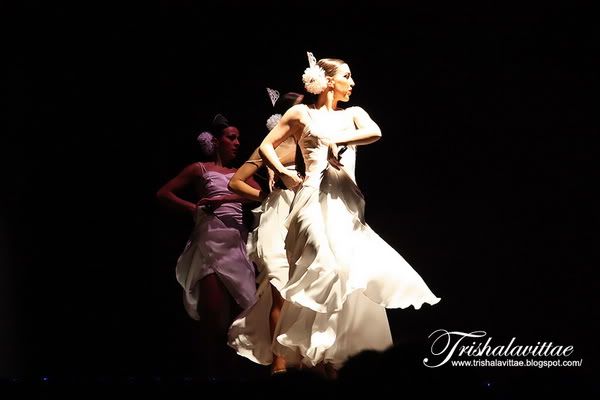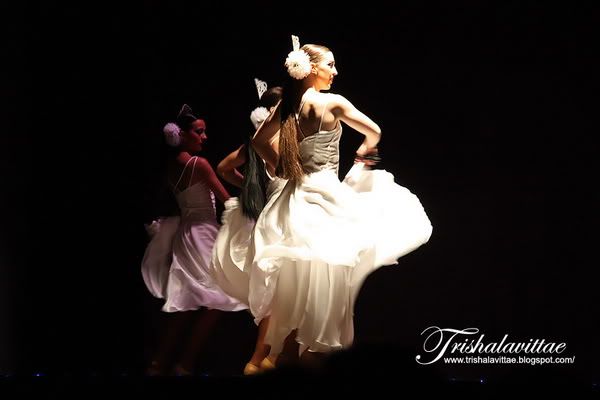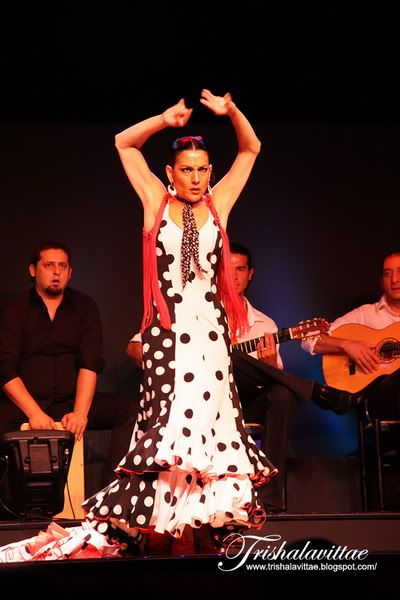 Flamenco的重点不只在于舞姿、音乐,而且身体语言、表情、情绪也是重点。
Flamenco is not just about the steps and the music; body language, facial expression and the emotion of dancers are also the factors determining the quality of the performance.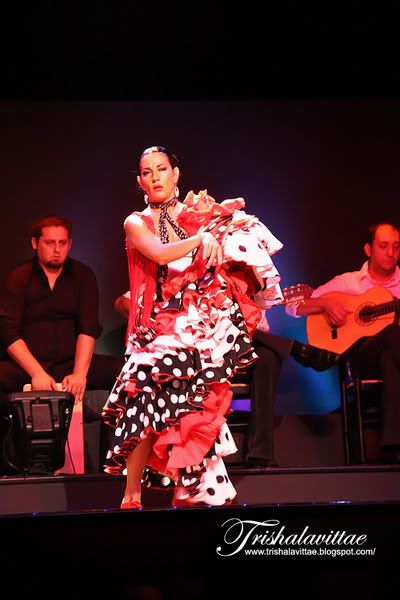 Among all the dancers, I like her performance the most!