姜和葱都是我的最爱!
好像是被妈咪影响的关系,我非常爱吃姜。把一片片的姜往嘴里送,要下去嘴里满满的香姜汁,那种感觉仿佛是吃到了世上最美味的东西。最喜欢的、也是最难忘的是在印尼做spa时他们端送上来的黑糖姜茶了。从来都没有喝过那么好喝的姜茶,这是我人生中最难忘的姜制美食。
这道姜葱鱼片其实是改篇于早前PO上来的姜葱猪肉。新鲜的嫩鱼肉,碰上抢味的姜葱,鱼肉会变得更美味!因为去了鱼骨,这一道菜绝对是老少都所爱的一道菜。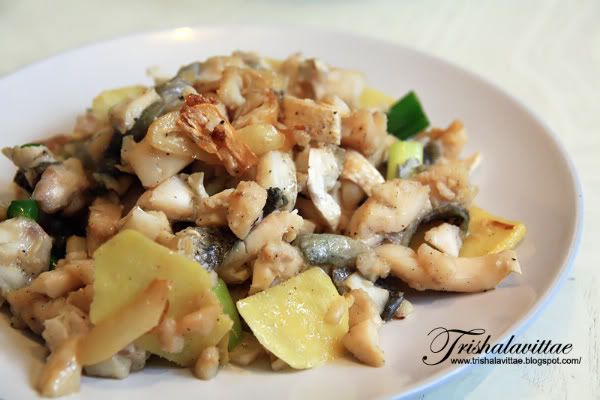 食材:
鱼肉..... 1 片
姜片..... 8-10片
青葱..... 3 根 (切段)
盐........ 适量
食油..... 适量
蒜片..... 5-6 片
煮法:
1. 鱼肉小切片,腌上适量的盐。
2. 把锅和适量的油热了后,先用大火炒姜片大概1分钟。
3. 加入蒜片一起炒。
4. 加入鱼片炒一下,然后就直接加入青葱也一起炒。鱼片很快熟,所以这个过程不需要炒到很久,反而炒得太久的鱼肉会变老变硬。依个人喜好,需要的话可以再加一些盐。(注:如果腌鱼的时候已经用到大量的盐,不需要再加盐了。
————————————————————————————————
Ingredients:
1 fish fillet
8-10 slices of ginger
3 spring onion (cut into 3-4 inches in length)
salt
cooking oil
5-6 thin slices of garlic
Instructions:
1. Cut fish fillet into smaller slices, marinate them with some salt.
2. Heat the wok with at least 3tbsp of cooking oil, stir fry ginger with high temperature for about 1 minute.
3. Add garlic to stir fry.
4. Add fish to stir fry for a while and immediately add spring onion to stir together with the rest of the ingredients in the wok. Cook until fish is cook and you may serve it on a clean dish.