回来大马后变得很不常煮。原因很简单:大马美食很容易找,种类又多。不用自己下厨就可以吃得很开心。加上只有我和小华两条人在家里,自己煮的话更不划。当然长远来说还是不上馆子吃为妙,毕竟外头煮的东西卫不卫生,是否有太多味精等都是对身体有害。
在Jusco买了一小包虾,家里又什么都还没有,只有一瓶蚝油、一瓶辣椒酱、一瓶蕃茄酱、盐和糖。想来想去真的想不到可以煮出来什么,干脆简单一点就煮个酸辣虾吧!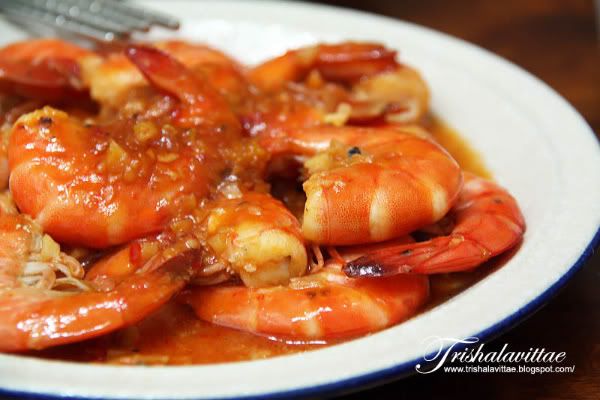 食材:
中型鲜虾..... 16只(去头)
蒜米..... 1 汤匙
Life 泰国辣椒酱..... 1 茶匙
Maggie 蕃茄酱..... 1 汤匙
盐..... 少许
胡椒粉..... 适量
水..... 1/5 马克杯
食油..... 1 1/2 汤匙
煮法:
1. 虾去头洗净后,取水,然后腌上一些盐和胡椒粉。
2. 开锅热油,先炒香蒜米。
3. 把虾加入锅内,一直炒到虾转红。
4. 加入辣椒酱与蕃茄酱,再加水。
5. 虾完全熟了就可上桌。
* 加入黄梨丁、黄瓜丁一起炒会更美味。
————————————————————————————————————————
Ingredients:
16 middle size prawns
1 tbsp of finely chopped garlic
1 tsp Life brand Thai chili sauce
1 tbsp Maggie brand tomato sauce
salt
pepper
1/5 mug of water
1 1/2 tbsp of cooking oil
Instructions:
1. Clean the prawns and marinate with a little bit of salt and pepper.
2. Heat the wok and the cooking oil, stir fried garlic until it turns a little brown.
3. Add prawns to stir until they turn red.
4. Add chili sauce and tomato sauce, then water.
5. Make sure the prawns are fully cooked before remove them to a clean dish to be served.
* This dish will taste even better to stir fried the prawns with cucumber cubes and pineapple cubes.