爱吃咖哩吧?废话!谁不爱吃!
近年来政府和各媒介都在推荐健康煮食。咖哩通常和心脏病扯上关系,原因是咖哩里的大量椰浆会导致心脏血管诸塞。其实我们煮咖哩时并非一定要用椰浆不可,可用炼奶或是鲜奶替代,这样就可以避免很多不必要的健康问题了。
有一回就因为我每一个礼拜都会吃一次的浓咖哩面,又常常把咖哩汤汁一扫而空,加上自己本身因遗传关系又比一般人高的胆固醇,吃到有天感觉到头昏昏的,做了全身检查后,发现样样健康,就是不好的胆固醇高过了标准。那一天开始后,很久一次才吃咖哩了,海鲜也少吃了。。。人老了,还是小心健康比较好。。。
话说回来。。当然,用奶煮的咖哩永远不能比用椰浆煮的咖哩香,也没它好吃。
说到咖哩,我想毕身让我难忘的应该只有在家里吃和在印度吃的咖哩吧!我很爱妈咪煮的咸鱼咖哩。妈咪用的咸鱼是硬尾鱼晒成的咸鱼,大大片的,很多肉,煮咖哩最好吃。印度的咖哩呢我想这一辈子除了再回去印度多一次才有机会再吃那么好吃的人间美味了!大马印度人卖的印度咖哩可差得远呢!英国印度餐馆卖的咖哩也普普通通而已。。哇!好想念印度的咖哩哦!
其实马来人的咖哩和印度人的咖哩差别是在马来人煮咖哩用椰浆,但印度人煮咖哩用
spices
。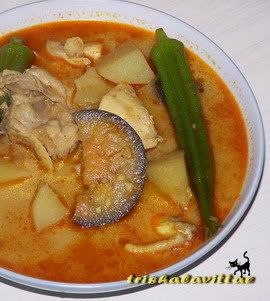 食材:
鸡腿............ 3 至4 支(也可以用其它部位)
香茅............ 1 支
马铃薯........ 2 粒
羊角豆........ 10 条
茄子............ 1/2 条
咖哩粉........ 4 大汤匙(鱼味咖哩粉会比较香)
小葱头泥.... 3 大汤匙
蒜米............ 1 大汤匙
咖哩叶........ 1 把
椰浆............ 1/2 杯(用牛奶会比较健康)
双脂奶酪.... 80毫升
清水............ 适量
食油............ 适量
盐................ 适量
胡椒粉........ 适量
准备:
1. 马铃薯去皮,然后把它切成方块。
2. 羊角洗净后保留整条。
3. 茄子切块。
4. 鸡腿切成小块。腌上盐和胡椒粉,待用。
5. 稍微打爆香茅。
6. 咖哩叶洗净待用。
做法:
1. 热锅后,爆香蒜米和小葱头泥。后来再加入咖哩叶。
2. 加入咖哩粉,一起炒香。
3. 把鸡腿也放入锅中一起炒,然后加水。
4. 把鸡肉煮一会儿后,接下来把马铃薯和香茅也放入锅中。然后把锅盖盖上,慢火闷30 分钟。
5. 开盖后再加上椰浆,再闷它5分钟。
6. 马铃薯煮得半软化后,是时候加入茄子。
7. 再多10分钟后,是时候加入羊角豆。如果不小心焖得太久而羊角豆开始裂开了,可以先把羊角豆捞起来。
8. 熄火前加入双脂奶酪,再加一些盐调味,煮多5 分钟 即可。
——————————————————————————
Ingredients:
3-4 whole chicken legs
1 lemon grass
2 potato
10 ladies fingers
1/2 aubergine
4 tbsp fish curry powder
3 tbsp chopped shallot
1 tbsp chopped garlic
curry leaves
1 glass coconut milk
80ml double cream
water
cooking oil
salt
pepper
Preparation:
1. Skinned potato and cut into bite-size pieces.
2. Wash ladies fingers and prepare for use.
3. Cut aubergine into bite-size pieces.
4. Cut chicken legs into smaller pieces. Marinate with salt and pepper.
5. Smash lemon grass.
6. Wash curry leaves and prepare for use.
Directions:
1. Heat the pot with some cooking oil. Stir fried garlic, shallots and curry leaves.
2. Add curry powder to stir fried with (1).
3. Add chicken to stir fried for a while. Then add in water.
4. Add potato and lemon grass, cook for 30 minutes.
5. Pour coconut milk and cook for another 5 minutes.
6. Once potato is soften, add aubergine in the pot.
7. After 10 minutes, add ladies fingers. Do not over cook ladies fingers.
8. Add double cream and salt to get the flavour before switching off the gas.