到小贩中心点
rojak
时,我都会很贪心的和老板要多一些沙戈。还好老板人好,常常都给我很多沙戈。说真的,
rojak
里其它料放得比较少我都无所谓。
一向来都不懂该把沙戈归入哪一种蔬菜类,直到有一天在
Tesco
看到沙戈的价钱表那里有个"
YAM
" 字,才知道它其实是芋头的表兄弟。沙戈原出至大马,后来很多亚洲国家都开始有栽种它。
沙戈除了生吃,也可炒成一道菜。这道菜,是和老妈偷师的。。。呵呵呵。。。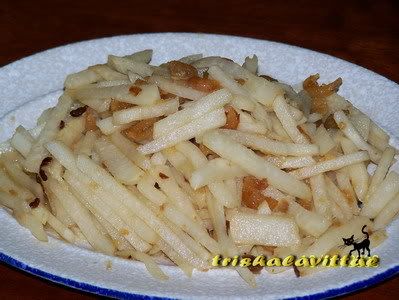 食材:
沙葛....... 大粒的用1/4 份就好
虾米....... 1/4 碗
蒜米....... 1 汤匙
食油....... 适量
盐........... 适量
做法:
1. 沙葛去皮后切丝。
2. 热锅后把蒜米爆香,然后再爆香虾米。
3. 虾米炒干后,再炒沙葛。
4. 加盐调味即可。
——————————————————————————
Ingredients:
1/2 to 1/4 yam bean
1/4 bowl dried shrimp
1 tbsp chopped garlic
cooking oil
salt
Directions:
1. Skinned yam bean's and cut into straw shape.
2. Heat the wok and stir fried garlic first. Then follow by dried shrimps.
3. Stir fried dried shrimps until harden. Add yam bean to stir fried with dried shrimps.
4. Add salt for flavor.