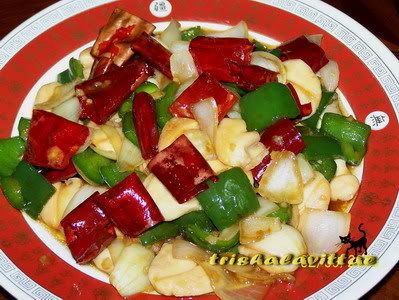 食材:
鲍贝罐头...... 1 罐
辣椒干.......... 2-3 条
灯笼椒.......... 1/2 粒
大葱.............. 1 粒
蚝油.............. 1 汤匙
蒜米.............. 1 汤匙
盐巴.............. 适量
食油.............. 适量

做法:
1. 把鲍贝罐头里面的水倒掉,然后把鲍贝浸水洗净。
2. 把辣椒干切段,灯笼椒和大葱切块。
3. 热油后,首先爆香蒜米,然后再炒辣椒干。
4. 炒香辣椒干后,把灯笼椒放到锅里炒。接着再把大葱加入一起炒。
5. 然后再加入鲍贝一起炒。
6. 加入蚝油和少许盐调味。
7. 炒熟后即 可。
——————————————————————————
Ingredients:
1 tine of abalone clam
2-3 dried chili
1/2 capsicum
1 onion
1 tbsp oyster saurce
1 tbsp chopped garlic
salt
cooking
oil
Directions:
1. Throw away liquid in contains in abalone clam's tine. Wash and immerse abolone clams in water.
2. Cut dried chili, capsicum and onion into bite size pieces.
3. Heat the wok, stir fried garlic then follow by dried chili.
4. Add capsicum and onion into wok and stor fried with (3).
5. Add abalone clams to stir fried together with other ingredients.
6. Add oyster saurce and a little bit of salt for flavor.
7. Once abalone clam is cooked, leave everything immediately from wok.