怡保的酿豆腐最好吃,大家应该都知道吧!
很可惜
很多冒牌怡保酿豆腐在KL及大马很多地方开店
酿豆腐的味道变味了
这一道菜并不像平常吃的酿豆腐
酿豆腐是应该把鱼肉和猪肉绞参在一起
加了一些调味料
然后再把肉料塞入苦瓜、茄子、羊角豆或辣椒之内
可以煮汤也可以拿去蒸
这一道菜是从妈妈那儿学来的
虽然有点难搞,但还是值得一试
清清淡淡
一口咬下去,绞肉在口里喷甜甜的肉汁,味道真得很棒!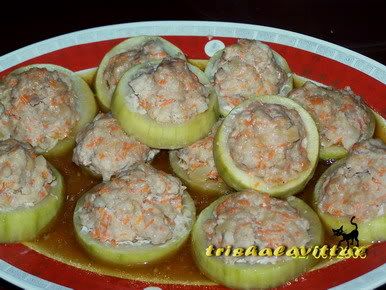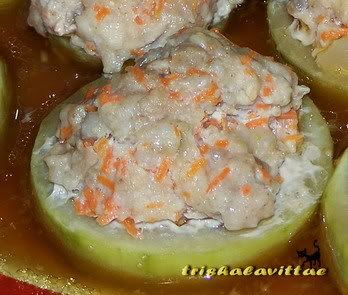 食材:
红萝卜........ 1 条
马蹄............ 6-8 粒(可用沙戈代替)
毛瓜............ 1 条
猪绞肉........ 适量
鸡蛋............ 1 粒
五香粉........ 1/2 茶匙
盐................ 适量
玉蜀黍粉.... 适量
绍兴酒........ 1 汤匙
酱油............ 适量
水................ 适量
处理猪肉绞:
1. 把红萝卜去皮后切丝,马蹄去皮后切粒。
2. 把(1)加入猪绞肉内,再加五香粉、蜀粉、盐和蛋,然后调匀它。
3. 把猪绞肉搓成圆形,待用。
处理毛瓜:

1. 毛瓜去皮,洗净后切成一段段,然后去籽。
2. 用大火蒸毛瓜大概15-20分钟。
做法:
1. 把已经调好料的猪绞肉塞入已蒸的毛瓜环中。
2. 把塞好的毛瓜那去蒸。别忘了在加少许水、绍兴酒及酱油做成料汁。
3. 大火蒸大概10-15 分钟。肉一熟就既可。
——————————————————————————
Ingredients:
1 carrot
6-8 water chestnut (could replace with yam bean, or also known as sengkuang)
1 middle size hairy gourd
minced pork
1 chicken egg
1/2 teasp Chinese 5 spices powder
salt
pepper
corn flour
1 tbsp Chinese rice wine
soy sauce
water
A. Preparing minced pork:
1. Cut carrot into slices and water chestnuts into dice.




2. Add (1) to minced pork, also add in Chinese 5 spices powder,

corn flour, salt and egg to mix.

3. Make minced pork into meat ball.



B. Preparing hairy gourd:
1. Cut off the skin and seeds, cut hairy gourd into pieces, then clear the seeds.
2. Steam hairy gourd for about 15-20 minutes until soften.

Directions:
1. Stuff meat ball (A) into hairy gourd (B).
2. Add a little bit of water, Chinese rice wine and soy sauce to make gravy.
3. Steam it for about 10-15 minutes.