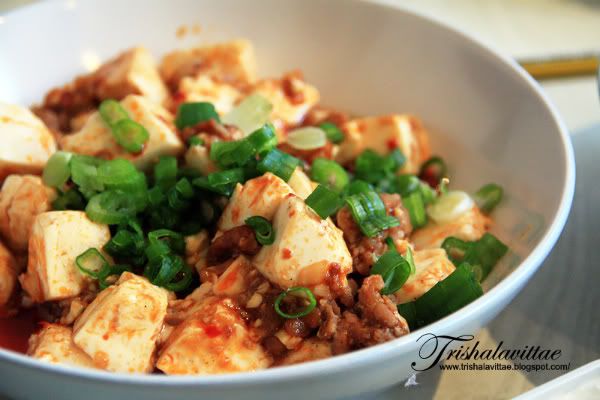 食材:
豆腐........ 1 条(切成四方块)
猪肉碎.... 1 碗
胡椒粉.... 适量
盐............ 适量
麻油........ 2 汤匙
辣椒干.... 3-4 条
蒜米........ 1 汤匙
葱花........ 2 汤匙(选择性)
李锦记麻婆豆腐酱........ 2 汤匙
玉蜀黍粉........ 1 茶匙
做法:
1. 猪肉碎腌上胡椒粉、少许盐和玉蜀黍粉。
2. 热锅后把麻油加入锅内煮热,然后开始炒蒜米和辣椒干。
3. 然后再加入猪肉碎炒至猪肉变熟。
4. 可以把辣椒干先取走,再加入李锦记麻婆豆腐酱,然后加些水。
5. 加入豆腐,把一切的东西调匀后,用慢火煮,让豆腐吸取酱汁。
6. 一旦酱汁开始有点收水后,把葱花抄一会即可。
————————————————————————————
Ingredients:
1 toufu, diced
1 bowl minced pork
pepper
salt
2 tbsp sesame oil
3-4 dried chilli
1 tbsp finely chopped garlic
2 tbsp chopped spring onion (optional)
2 tbsp Lee Kum Kee Ma Po Sauce (Spicy Bean Sauce)
1 teasp corn flour
Directions:
1. Marinate pork with pepper, salt and corn flour.
2. Heat the wok and add sesame oil. Fry chopped garlic and dried chilli until they turn color.
3. Add pork to stir until it is cooked.
4. Now you could remove dried chilli and add Lee Kum Kee Ma Po Sauce and some water.
5. Add toufu to simmer in (4) with medium-low heat.
6. Once the sauce is thickening, add chopped spring onion to stir (optional) for about 1 minute.